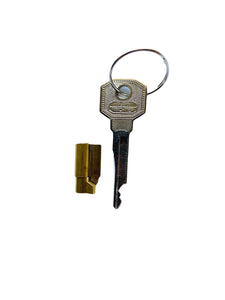 Burg Wachter ME Lock Blocker for Furniture
Ideal for mortise furniture locks
Makes simple mortise locks very secure with a unique high-security key - protect the things you store in your furniture
Easy installation: no drilling, bolting, or screwing is required. Just stick it in and you are done!
Longevity thanks to sturdy high-quality materials 
6mm core diameter (15/64")
Comes with one key only
Made in Germany
Lifetime warranty
Also known as chastity lock.
How does it work?
Older pieces of furniture, such as china cabinets, antique desks, drawers, etc., use low-security locks and keys.  The ME furniture lock blocker provides higher security with its unique, high-security key.  The tip of the ME lock blocker is hollow, allowing it to fit into the keyhole. Once the ME lock blocker is inserted into the keyhole, its key is turned and the tailpiece swings out into the original lock preventing the blocker from sliding out of the keyhole. The ME key can be removed from the blocker. The ME blocker remains securely behind the keyhole. Until the lock blocker is removed, the original key will not be able to fit into the keyhole to unlock the lock. 
A common misconception is that the original, low security lock can be opened with the lock blocker. That is not the case. In order to open the furniture again, the ME lock blocker must be removed using its unique, high security key.  Once the lock blocker is removed, the standard key is used to open the desk or cabinet. 
Dimensions
The entire lock is 3/4" long. The ME lock must be inserted at least 1/4" to remain in the keyhole. It is normal for the ME lock to protrude from the keyhole. A flush fit occurs when the ME lock can be inserted the full 3/4" length into the keyhole. (see application pictures)
A center pin in the middle of the original keyhole is needed. (Standard keys for this lock type have a hole in the tip). The pin can be up to 9/64" in diameter. The ME lock blocker will not fit on wider pins. The ME blocker slides onto the original keyhole pin to about 1/4" depth.