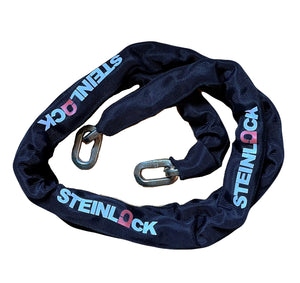 The KS hardened security chain is high-quality tempered steel. The cover is basically a very durable nylon tube, offering scratch protection to your equipment and to the corrosion-protective plating on the chain.
Usage and suitable padlock
The 10KS is the most popular size, striking a good compromise between security and affordability. It will beat a cable every time and is well-suited for any gate or motorized recreational vehicle such as an ATV, bike, scooter, etc. It is recommended to use with a 2" wide padlock with a hardened steel shackle.
We recommend the 10KS (3/8" diameter/cross-section) for gates and multi-purpose locking off the ground.

For higher security 
alternatives
 look below.
Security chain made of special hardened steel

Top security against all types of aggressive attacks

Fabric sleeve prevents paintwork and chrome from damage

Chains in barrels: customized lengths available
Why is quality extremely important for hardened steel products?
The multi-stage tempering process ensures that the chain is not too hard. Hardening is a real art. Not only does the special alloy steel need to be highly controlled, but through thousands of hours, the skill of the factory is honed. Timing is critical. If the chain is hardened too long or too hot, it becomes brittle (think of glass shattering). If it is not hardened enough, it will be soft like the chain you can buy at your local hardware store. Rigorous quality assurance processes for incoming and outgoing product is essential.  We have personally seen and performed Rockwell testing which ensures every batch of hardened steel is perfectly tempered.
Opting for a cheaper chain can equate to a softer chain. Without the hardened steel, a soft chain is easy to cut. 
We recommend the 10KS (3/8" diameter/cross-section) for gates and multi-purpose locking off the ground. Without the leverage of the ground, it is virtually impossible to cut even with 5' bolt cutters. Where ground leverage can be used for cutting, we recommend the 12KS or 14KS chain (1/2" and 9/16") diameter/cross-section respectively)
Custom lengths are available up to 100' (look for bulk chain on this site) with or without sleeve.